Highlights: HOW Design Live 2019
We had a fantastic time at HOW Design Live 2019. The Sylvamo booth was full of people hand pulling their own screen-printed Accent® Opaque sketchbooks featuring custom artwork from Flat Planet Press — and clearly having a blast.
Flat Planet Press is the combined studio practice of Rockford, IL artists Joe Tallman and Alison Weust. "Flat Planet" refers to the two-dimensional nature of the duo's work. Their hand-drawn, hand-printed works on paper are inspired by comic books, pulp-era science fiction, hand-illustrated typography and music, all with a graphic design sensibility.
Joe and Alison each created an original design inspired by Accent for the covers of the sketchbooks — one for the first day of HOW and one for the second — and were on hand to help with the screen-printing process in the booth.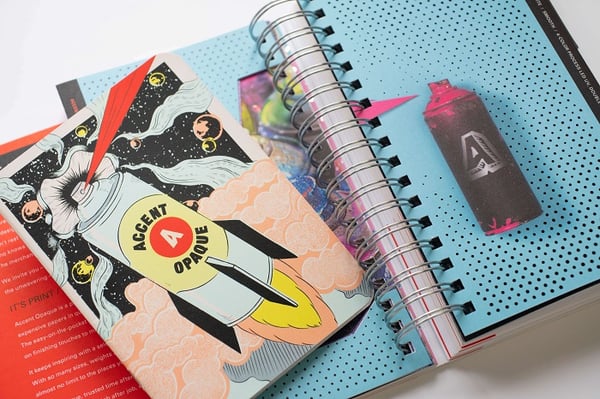 The Inspiration Behind the Design
Both cover designs pay homage to the brand new Accent Opaque swatchbook, which made its official public debut at HOW. Alison's design is an intergalactic mashup of the spraypaint spread and the outer space spread in which the spray paint can is transformed into a rocket ship. Joe's design incorporated multiple elements from the swatchbook — the ice cream cone, the water skiier, Apollo the spacedog, the soda bottle — all orbiting the Accent A. Both artists pulled from a Jack Kirby-esque illustration style that explodes off the page and is heavy on the cosmic blasts.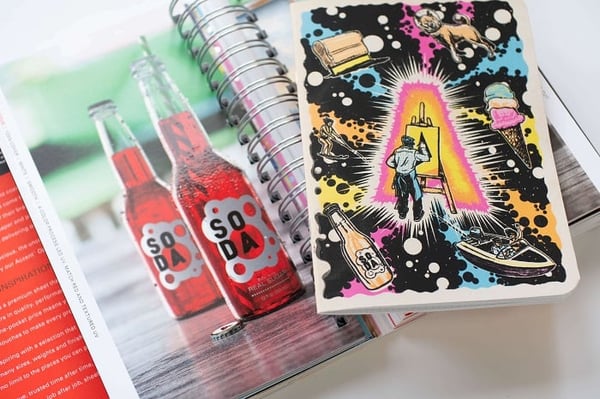 Flat Planet's Process
For most designers today, the design process begins with paper. This project was no different — it began with Accent, and it ended with Accent.
Alison and Joe sketched their concepts by hand and then brought their creations into Adobe Photoshop and Illustrator so that they could be cleaned up and digitally colored. They then digitally printed the sketchbook covers with the color layers of each design. Finally, HOW attendees manually screen printed the key black layer, which revealed the final image.
Alison describes the approach as a blend of fine art screen printing with digital inkjet printing. Traditionally with screen printing, each color is printed individually, and the printmaker works from the lightest color to the darkest color, in a process known as color reduction or reductive printmaking. Flat Planet followed this same process but simply printed those first few layers digitally. Mixing digital printing and screen printing is a bit more common with mixed-media collage, but it's unusual to see a printmaker use this approach with a reductive image (where all the layers line up and work together to make one image). It was certainly new territory for Flat Planet, but they were up for the challenge.
"In the fine art printmaking world, it's not uncommon to mix printmaking forms," says Alison. "It's not uncommon to mix screen printing with lithography or letterpress, for example. Printmaking is a very experimental process, so this jump to experimenting with digital made sense to us."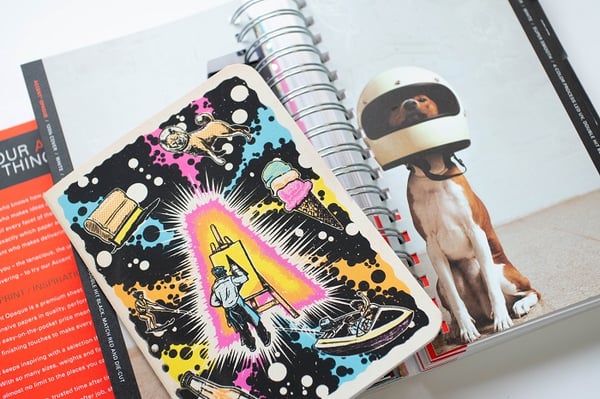 The Results
With screenprinting, everybody has their own touch — literally. Some people hand pull aggressively, while others are a bit lighter. Thanks to each person's different physical approach to the screen printing process, no two pulls were alike, which means no two sketchbooks were alike. Flat Planet may have created the cover artwork, but each HOW attendee put their own Accent on it, resulting in hundreds of sketchbooks, each unique as the individual who made it.
The Reception at HOW
We started with 1200 sketchbooks and they were so popular that we ran out!
Countless designers commented that they hadn't been so hands-on with the printing process since college, and it was fun to watch people reconnect with the art of screen printing and get their hands dirty.
"There's a bit of wonderment involved in screen printing," says Alison, "because you don't see what you did until you lift up the screen and reveal it. It's a big moment for people who don't get to do it often, and as someone who does it all the time, it's a feeling we sometimes take for granted."
Accent fans who are used to using the paper for offset or inkjet projects were also excited to see its fine art applications. It was the perfect demonstration of the fact that Accent's versatility really does allow designers and artists to put their Accent on the world — whatever that means to them.
Since the show, Alison and Joe have been filling up their own Accent sketchbooks with new ideas. In an upcoming post, we'll share more about their art and inspirations. In the meantime, follow them on Instagram @flatplanetpress.