Highlights: Accent On: Reading and Project Apollo
It's the readers of the world, both young and old, that help the print industry grow and thrive. Through our Accent On: Reading program, Sylvamo pioneers public service initiatives designed to encourage a lifelong love of reading. By expanding access to reading materials, teaching readers to engage with narratives in new ways, and fostering literacy through unique and creative partnerships with local service organizations, Accent On: Reading meets readers where they are with relevant resources and engaging stories.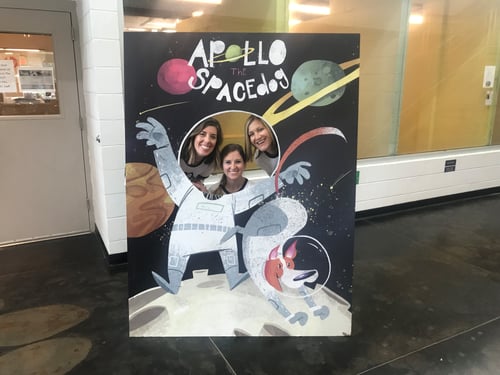 It all started with one image in the new Accent Opaque swatchbook — an adorable dog wearing a space helmet — that seemed to be catching the eyes of our customers. We named him Apollo, and he soon became the catalyst for the development of our new reading program.
Project Apollo
For one of our first initiatives, we teamed up with a local animal shelter to have kids read to dogs that were up for adoption. I was inspired by a similar program run by the Humane Society of Missouri. When I realized that the same trainer who trained my Labrador many years ago was now the volunteer coordinator at our local Humane Society of Memphis and Shelby County, it felt like fate. I successfully pitched her the idea of a kids reading program. This program became known as Rescue Readers for the Humane Society, but we coined it Project Apollo, paying tribute to the inspiration of the program.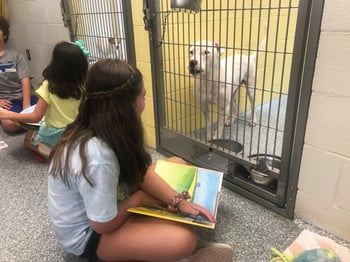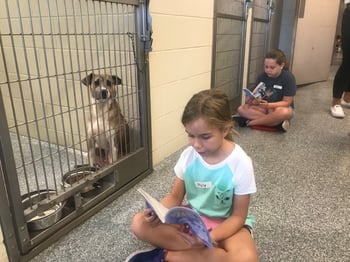 With Project Apollo, kids are able to practice their reading skills in a fun, low-pressure environment by reading aloud to shelter dogs. This has the added bonus of helping calm and socialize the dogs, which increases their chances of being adopted. It also has a real impact on the kids' reading skills: a University of California study has shown that kids who read to dogs for just 10-15 minutes per week experienced a 12% increase in reading proficiency, and another study demonstrated that readers increased their proficiency by at least two grade levels after 13 months. Seeing a child's confidence increase and a nervous shelter dog relax in such a short period of time is an amazing thing to witness.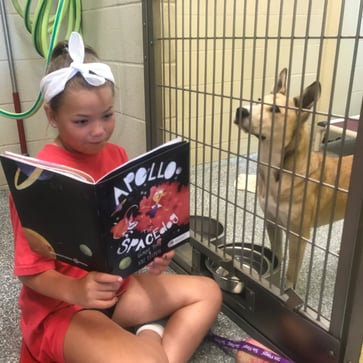 Apollo the Space Dog
To kick off Project Apollo, Sylvamo commissioned and printed a special children's book starring the very dog that inspired the program. Apollo the Spacedog is an adventure story that features two fun characters who team up to outrun a space monster: Apollo, a shelter dog who longs for a home, and Andi, a young girl who loves astronomy. Each child participating in the program receives their very own copy of this beautifully illustrated story. The book was printed on Accent Opaque Super Smooth, and we partnered with Canon Solutions America to produce it.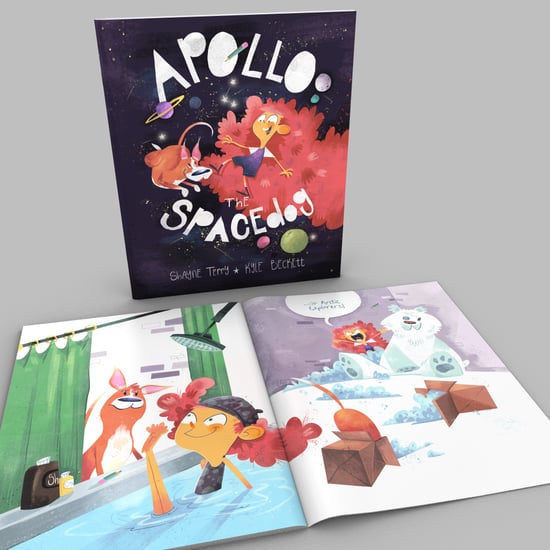 The Magic of Augmented Reality
We incorporated augmented reality (AR) into Apollo the Spacedog to help bring the story to life. When readers download the Sylvamo+ app and hover over the AR marked pages in the book, the illustrations jump off the page. We love using AR with books because it's a great opportunity to demonstrate that technology and print aren't mutually exclusive, and that they can work together to enhance a story and create an immersive, dynamic user experience. And it doesn't hurt that the kids think AR is really cool!
Research has shown that when it comes to reading, the medium really does matter: a child who only reads on digital devices is three times less likely to enjoy reading, and also retain less of the information as compared to a child who reads the same story in print. While I chose to launch this program in Memphis, where Sylvamo is headquartered, I hope that Accent users will fall in love with Apollo like we did, and be inspired to bring similar programs to the places they live and work to help spread the joy of reading. With Accent: On Reading and Project Apollo, we're making an important investment in education and putting our own Accent on our communities and our children's futures.