Digital Dish: October 2021
Every Digital Dish features stories, tips or tricks from digital experts. This month, we spoke with Brad Scull, President of Yorke Printe Shoppe in Lombard, Illinois. As a specialty printer with expertise in complex projects that require the highest levels of quality, Yorke knows what it takes to wow clients. Brad shared with us how his team used their unique talents to delight customers in the midst of the pandemic.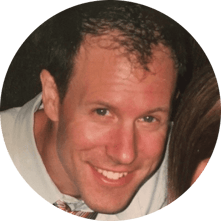 FUNNY BUSINESS
Yorke's client base is mostly made up of design firms and in-house designers at corporate companies, and with many of their customers working from home, that's meant fewer face-to-face meetings and press checks. Yorke wanted to say "we miss you" in a BIG way, which is how the "Big Pad Promo," as the team calls it, was born. "We wanted to do something funny, and almost obnoxious," says Brad. Something that would surely put a smile on each designer's face.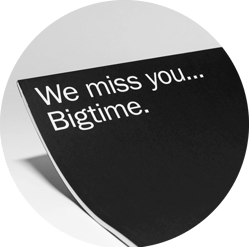 VARYING THE MESSAGE
Yorke printed the 12x18" notebook, which was designed by Jim Boborci of Emu Design, on their Fujifilm J Press 720S. Brad says that the J Press — affectionately known as "The J" — excels at achieving incredible quality while enabling short runs (Yorke only printed about 100 notepads) and variable printing. This notebook leverages those variable capabilities: every 10 sheets features a different saying around the theme of "big"ness: "Speak softly and carry a big notepad." "It's time for some big ideas." Of course, it also comes with a ridiculously big pencil.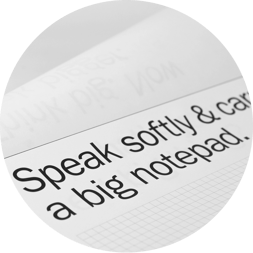 THE ANSWER IS CLEAR
The black cover was also printed using inkjet and was then run through a Xerox toner machine, which printed the Yorke logo in clear ink. The effect? A winning combination of whimsy and craftsmanship. Brad says Yorke's clients loved the unexpected gift. Many called to let him know they were using it — with regular-sized pencils.
SYLVAMO'S DIGITAL PORTFOLIO ONLINE
Looking for paper to make your wildest digital dreams come true?