Accent On: Max Mahn
The next artist to be featured as part of our Accent® Opaque Portfolio Exchange is someone you've probably seen around here before. Max Mahn is a printmaker and illustrator from Missoula, Montana who makes stunning gig posters under the pseudonym Twin Home. We spoke with him over a year ago about how he got his start. More recently, we followed up to find out how things are going screenprinting during a pandemic.

The central theme of the Accent Opaque Portfolio Exchange is "sustainability." How did you approach this theme?
It was a no-brainer to me that I wanted to do something revolving around plants. But I wanted to contrast that element with something aged and broken down. After hours of scrolling through vintage magazines, I landed on this old decrepit portrait that popped out at me. It was then my mission to provide this old half-toned photo new life bursting with color. I enjoy the process of taking old forgotten imagery and supplying it with a new, refreshing breath of life.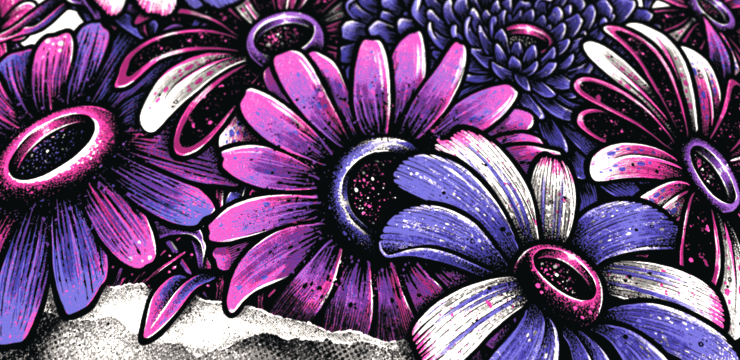 This project was already underway when our world was changed by a global pandemic. Has living through this affected your artistic process?
It has had two effects. The first: it has put an enormous amount of stress on my commercial work. With concerts postponed until the unforeseeable future, my job as a gig poster artist has vanished for the time being. The second: I've taken this free time to focus on myself and my work space. It's been a good time to reflect back on old designs lost in the folders of my computer and give a few of them new life as physical screen prints. I've also been experimenting more with different print and art methods, which I'm usually too fearful to try when dealing with a client, as the outcome is often unpredictable.

Do you view the work you created for the Portfolio Exchange differently today than you did when you created it? If so, how?
I don't think so. I try not to dwell on a specific piece for too long after I've created it. I've found it to be a better habit for myself to move on to the next design, bringing along the things I learned from the past design.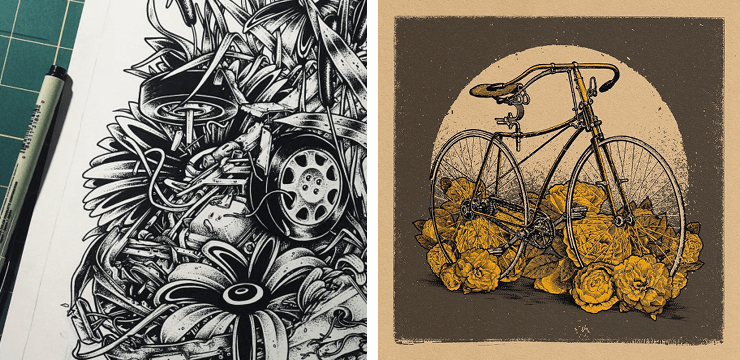 Where are you turning for inspiration during this time?
I think my inspiration has remained the same. My work doesn't often play off of current events or politics, even though that seems to be the only thing that exists in the world right now. Even in these weird times, my main inspiration is forged from vintage found imagery and my friends, who continue to crank out amazing work.
Now more than ever, there's a focus on supporting the ​local businesses that make our communities great. What's one from your own community that you think everyone should know about?
It's not necessarily a "business," but the ZACC (Zootown Arts Community Center) here in Missoula is a great organization offering kids' art classes, band lessons, community events, and a place to practice all of these. That is where I exposed my very first screen. I would also advise supporting your local college radio station right now. With college classes being an uncertainty, these stations can be affected drastically. For Missoula, that would be 89.9 KBGA!
The Accent community is made up of artists, designers and printers. If you could send this group one message right now, what would it be?
Use this time to take a breather and make some art you normally wouldn't have the time for. Sooner or later, we're all going to be hunkered back down in the hustle and bustle, wishing we had more free time. Lastly, everything will be alright!
Thanks to Max for chatting with us! Find more of his work at twinhomeprints.com and on Instagram @twinhomeprints.