Accent On: Printmaker and Illustrator Max Mahn
Max Mahn is a printmaker and illustrator working between Montana and Wyoming under the pseudonym Twin Home. He's passionate about the art of the gig poster, and he spoke with us about how he got his start and what's inspiring him today.
What's your origin story — how did you get started as a printmaker?
Throughout middle school and high school, I was completely obsessed with graffiti, and with this came a strong itch to print stickers and t-shirts. Toward the end of high school, my parents helped me set up a makeshift washout booth and print table in the basement of our home. My friends and I printed t-shirts and stickers for days on end. Looking back now, we were doing EVERYTHING wrong but hey, everyone's got to start somewhere.
After high school, I started college in my hometown Missoula and went into a printmaking focus. Most of my time was spent creating woodblock prints, until one of my professors there, Jim Bailey, opened to my eyes to gig posters. I was immediately hooked! From there, I put all of my energy into learning to screen print on paper, and the rest is history.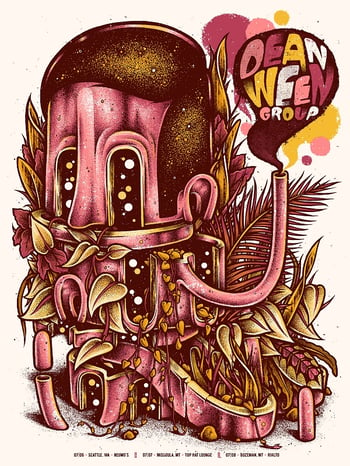 We've noticed a relationship between screen printing and graphic design/illustration. What about the process of screen printing seems to lend itself so well to designers?
I think screen printing goes hand in hand with graphic design and illustration so well because you can perfect your image beforehand on the computer and translate it to the printing process with minimal hassle (compared to things like aquatints and woodblocks). I'm not at all saying screen printing is an easy or hassle-free medium to work in — in fact it's the opposite — but I've always felt it is the medium in which the final outcome is most accurately controlled.
Tell us about your relationship to paper. What role does it play in your practice?
Paper is my friend, and one day I hope paper feels the same way about me. I've never gotten much satisfaction creating a design and leaving it to get lost in a folder on my computer. Something about making a physical hand-pulled print helps me bring an illustration full circle. And just as my ink colors and registration are important, paper plays a crucial role in bringing these things to life.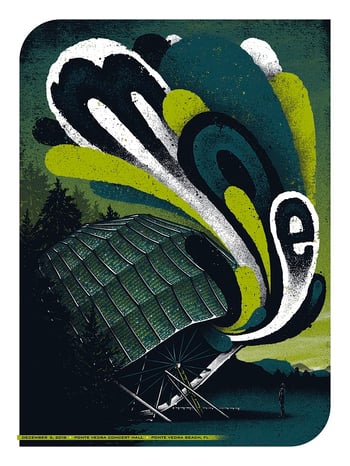 What are the other tools that are crucial to your personal craft?
My illustrations typically start with either a pen and pencil on paper or a collage of found image clippings from vintage magazines and newspapers. I jump back and forth a lot between a computer and paper. This usually makes me a fairly slow designer in the end, but it's the method I've found that give me the best results.
Once the illustration is done, that's when I need all my expensive, heavy, annoying-to-move equipment. I use a large scale Epson 24" printer to output my film positives, a large vacuum exposure unit to expose my screens, a big honkin' washout booth I threw together with scrap sheet metal and Plexiglas, a steel vacuum table to print on, a drying rack to let the prints air dry, a power washer to clean screens and a few tables to collect junk and empty ink containers. To be a screen printer, you either need to borrow someone's equipment or become a literal hoarder.
You go by the name Twin Home. You've said elsewhere that you chose that pseudonym in college and that the name stuck but the meaning didn't. Forgetting the original intent, what's the most interesting theory you've heard on your name?
I get asked a lot if it has to do with my parents' marital status, which I always find to be a bold and slightly inappropriate question to ask a complete stranger, haha.
You've been a Cougar fan for a long time, but we recently sent you some Accent Opaque to try out. What was it like to work with Accent?
In my opinion, I don't know if I would be able to tell the difference between the two, and Accent is so much easier on the wallet. It rolls nicely for shipping, colors pop well off of it and, as long as the paper is pre-racked for a couple of days with a humidifier, you won't get much paper expansion between colors.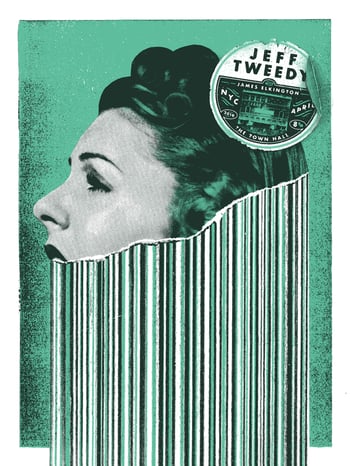 Tell us about the posters you made for Jeff Tweedy's recent back-to-back shows in New York City.
This was a fun poster to do, not only because I have loved Jeff Tweedy's music since I was young but also because I was given a vast amount of artistic freedom. I actually had this poster 70% done before I even had any contact with the Wilco people. They loved the design and it worked great for his back-to-back New York shows.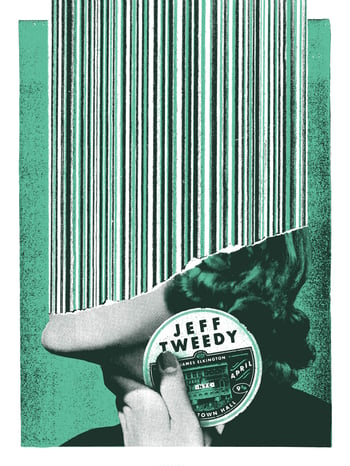 What are the other dream bands or musicians for whom you'd love to create gig posters?
Here's a sliver of my dream list: Tomorrows Tulips, Hinds, Nap Eyes, The Thermals, ScotDrakula, Cut Worms, The Donkeys, Current Joys, Parquet Courts, of Montreal, Chad VanGaalen, The Uplifting Bell Ends, Dr. Dog, Cate Le Bon, Twin Peaks… oh man, I'm going to stop there. This list could go on forever! In the end, I just really enjoy working with any of the bands that continuously pop up on my speakers.
I'd also love to do some graffiti-inspired gig posters for some hip hop groups — back to my roots!
What do you need in order to do your best work?
It's always great when a band says, "Do whatever you want, we love your work." Also, a definite deadline helps my brain kick it into gear for some reason.
Tell us about another recent project you're particularly proud of.
I would say my poster for Courtney Barnett in Stockholm. As I said before, it's always a pleasure to work with someone who you listen to daily, and her last album Tell Me How You Really Feel has been playing nonstop in my house. Not only that, but it was for a show in Sweden, which makes it my first international gig poster.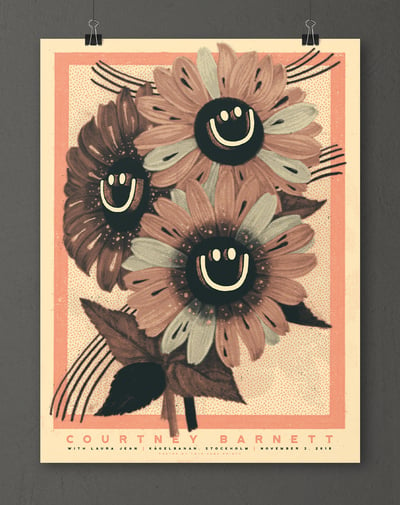 Who or what do you look to for inspiration?
Initially, it's the music I'm creating the poster for. I'm also extremely inspired by vintage design like 50s and 60s illustration, for example. And although I don't regularly paint graffiti anymore, the graffiti world still has a huge influence on my linework and style. People like Smash137, When and Hense come to mind. With the incredible amount of work being produced by people these days, it's hard not to be inspired every time you open a magazine or turn on your phone.
What advice would you give to emerging printmakers?
Work in the trade. I was once told by a professor not to work in a print shop as it would probably affect my desire to create my own work, and I'm so glad my stubborn head ignored that. If you want to learn how to screen print, go work at a shirt shop for a few years. You'll learn to print with consistent results, and you'll get an eye for how artwork is separated to result in the best product. It's a lot more expensive to mess up a hoodie than it is to mess up a single sheet of paper. Not to mention the lifelong friends and connections you'll make. That's right, Garage Tees, I'm looking at you. (Smooches!)
Lastly, keep making things. Don't stop. Always have something on the backburner so that when you have the itch to print, you can always go to press.
Thanks to Max for chatting with us! Find more of his work at www.twinhomeprints.com and on Instagram @twinhomeprints.