3 Dimensional Mailers We Love
Direct mail is beloved by marketers because of its effectiveness — according to the Direct Marketing Association (now part of the ANA), up to 90% of direct mail gets opened. Postcards are even more effective; since there's nothing to open, nothing stands between the message and the recipient. Plus, they're simple and cost-effective to produce. But there's another type of direct mail with super-high open rates, and while they may not be as easy to design and print as postcards, we can't help but love them: dimensional mailers.
A dimensional mailer is exactly what it sounds like: a mailer with dimensions, also known as a 3D mailer. Most dimensional mailers mail flat to save on postage and then have a "pop-up" element. (For a good example of a pop-up, see our own Ticonderoga Pop-Up Storybook Mailer, which tells the story of our Ticonderoga Mill in 3D and augmented reality.)
Dimensional mailers deliver a real wow factor, which helps them to stand out from other mail pieces, and they often have an interactive component, which is why they typically achieve high response rates. We love dimensional mailers because they represent some of the most creative, intricate direct mail design work being done today.
To see what I mean, take a look at these three dimensional mailers, all created using Accent Opaque.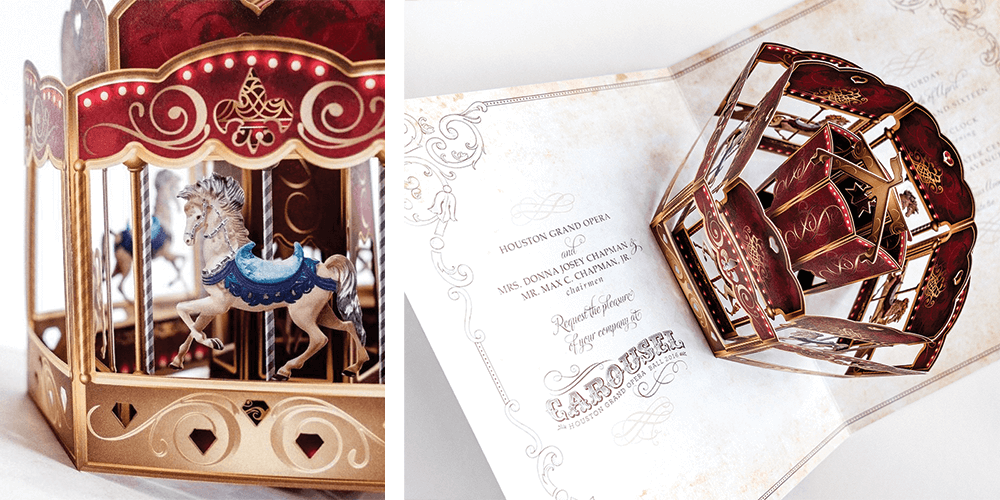 The Houston Grand Opera's Pop-Up Carousel Mailer
This invitation to the Houston Grand Opera's annual fundraiser opens to reveal a 3D pop-up carousel, featuring exquisite details like tiny carnival lights and fleurs-de-lis patterns. The folding, scoring and die cutting turn what could have been a simple invitation into a work of art.
Designer: Lavandula Design
Printer: DiscPro Printing
Laser Die Cutting: LasX
Finishing and Hand Assembly: Elation Press
Paper: Accent Opaque 120 lb. Cover Smooth
Casino Night Craps Board Invite with Real Dice
Suttle-Straus created this interactive invitation to their 40th annual employee awards night. Fashioned as a package personalized with the invitee's name, the box slides open to reveal RSVP "poker chips" and then transforms into a craps board complete with real dice.
Designer and Printer: Suttle-Straus
Paper: Accent Opaque 80 lb. Cover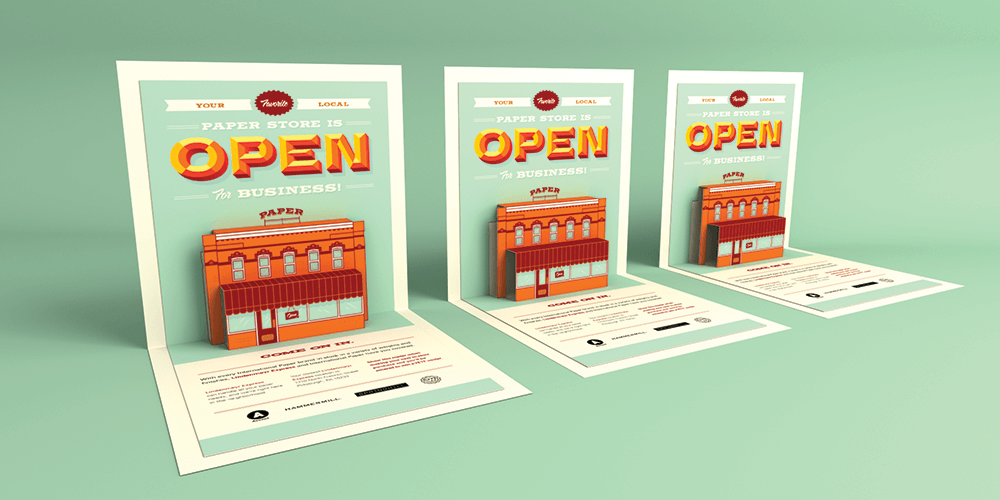 Open for Business Pop-Up Mailer
To announce its reopenings following early pandemic lockdowns, Lindenmeyr Munroe sent these invites to welcome customers back to their local store (personalized for each recipient using variable data). Pop-up designs can be complex, but this one is simple and cost-effective; one sheet is a flat-folded card while another die-cut sheet sits on top.
Designer: Trekk
Printer: Active Graphics
Paper: Accent Opaque 80 lb. Text Warm White Smooth
Inspired? Create your next dimensional mailer using Accent Opaque Cover or Accent Opaque Text.