10 Fun Ways to Celebrate Halloween With Paper
Will Halloween look different in 2020 than it has in previous years? Because of the coronavirus pandemic, it's safe to say that like many things in everyday life, yes, Halloween will look different. But just because things are a bit uncertain and unprecedented doesn't mean that people aren't still looking for safe ways to celebrate the holiday on October 31 — especially for those kiddos that look forward to it every year.
In fact, according to the National Retail Federation, while three-fourths of respondents said the virus is impacting their celebration plans, more than 148 million people still plan to participate in Halloween-related activities. Raking the highest were safe at-home activities, with 53 percent planning to decorate their home — which is where we come in.

At Accent Opaque/Sylvamo, we know how important paper is, and this Halloween is a great time to use that paper to help kids safely enjoy the holiday by making creative paper crafts and decorations. All the projects below can be made with our Accent® Opaque Cover or Accent® Opaque Text — premium uncoated sheets, ideal for invitations, greeting cards, posters, crafts, and more. Find us on Amazon, and let the fun begin!
Halloween Hanging Bats
What is a Halloween party without a few bats hanging around? To make these clever creations, all you need is scissors, black thread, white pencil, and black paper. Get the full instructions here.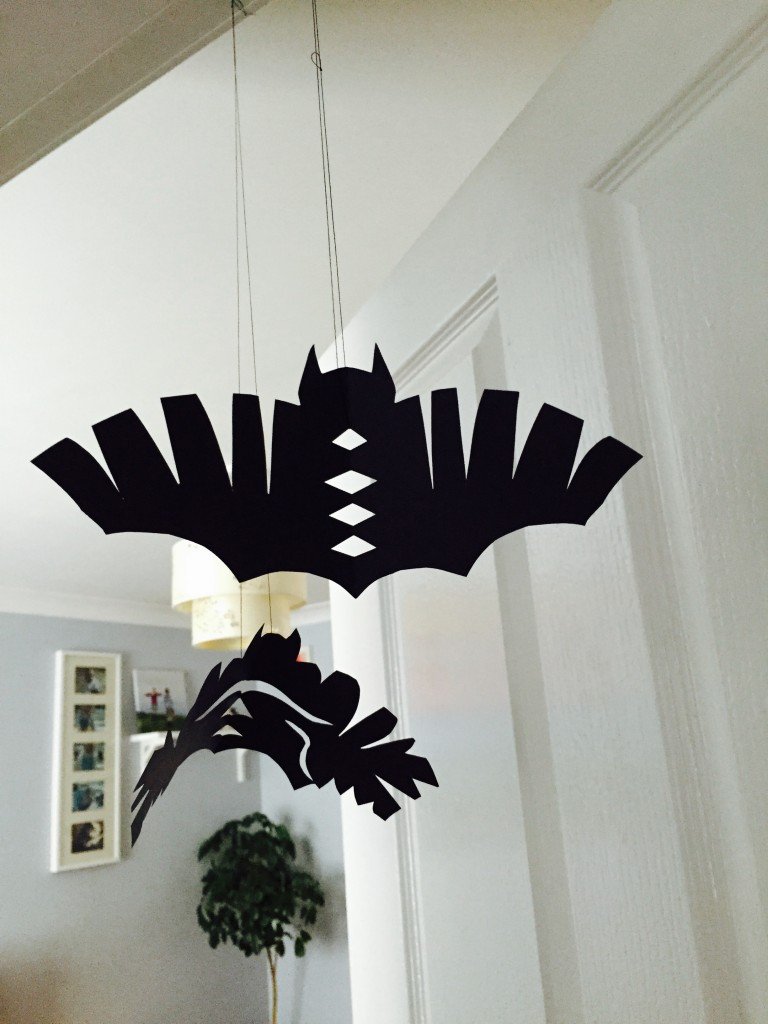 Image credit: Daisies and Pie


Paper Strip Pumpkins
Sure, you'll be carving pumpkins. But this mess-free option is a great way for kids to create their own Jack-o-lanterns with only orange and green cardstock, a ruler, a marker, scissors, and a split pin. Get the full instructions here.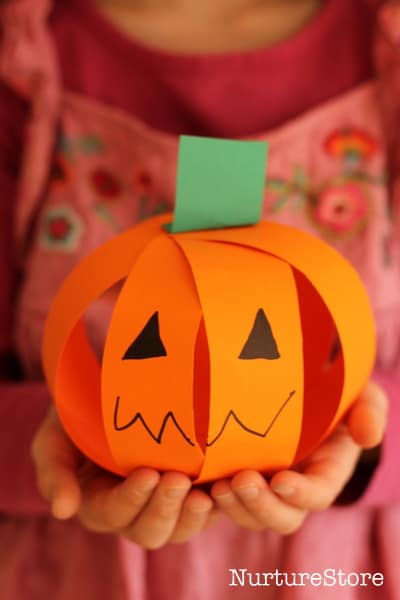 Image credit: NurtureStore


Jack Skellington Halloween Wreath
Who says that wreaths are only for Christmas time? This spooky creation is great for kids and adults and requires only white, orange, and black paper, a paper plate (or cereal box), glue stick, black pen, white paint (optional), and something for hanging. Watch the video tutorial here.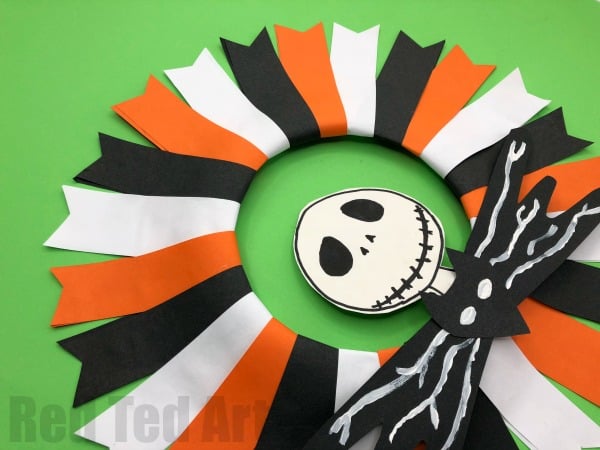 Image credit: Red Ted Art
Haunted House Cutout
Kids will love this activity, and it really couldn't be simpler. All you need is black and yellow paper, although you could alternately mount it on white paper, but the yellow creates a cool eerie effect in the windows! Download the template, grab your glue, scissors, exacto knife, and a marker and let the kids get creative! Full instructions can be found here.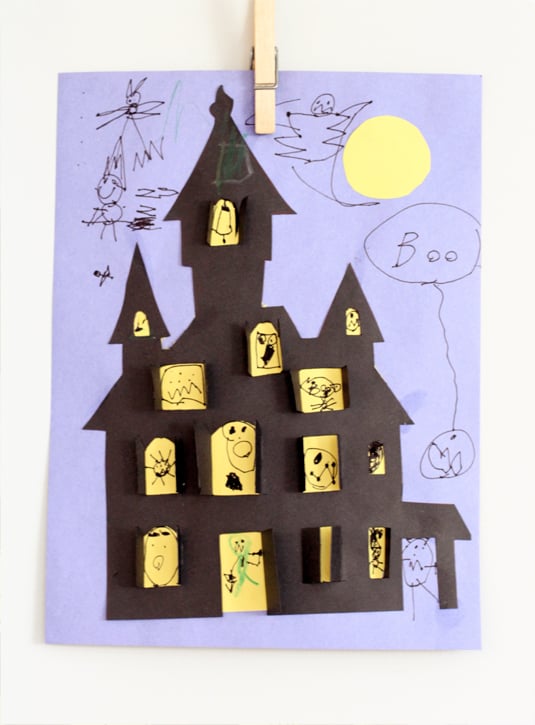 Image credit: Sarah Jane Studios


Curly Paper Pumpkins
Take your pumpkin game up a notch with these curly paper pumpkins that look a little big fancy as they twirl in circles from the ceiling, but they're simple enough for kids to make and enjoy. The supplies? Orange, green, and brown paper or cardstock, stapler and staples, string for hanging, and scissors or paper cutter. A few cuts and staples later and you have a masterpiece! Get the full instructions here.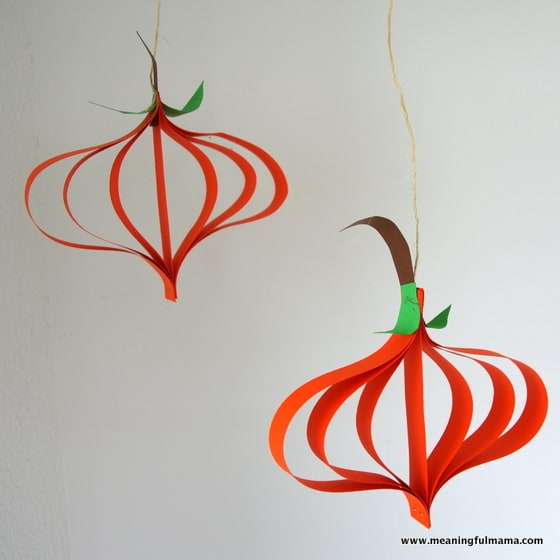 Image credit: Meaningful Mama


Hanging Paper Lanterns
This one is for the adults, but who can say "no" to a Martha Stewart craft? Plus, it looks amazing, and only requires downloading the templates, heavy black and orange paper, vellum paper, a laser printer, and some tape. It's totally worth the effort. Get the full instructions here.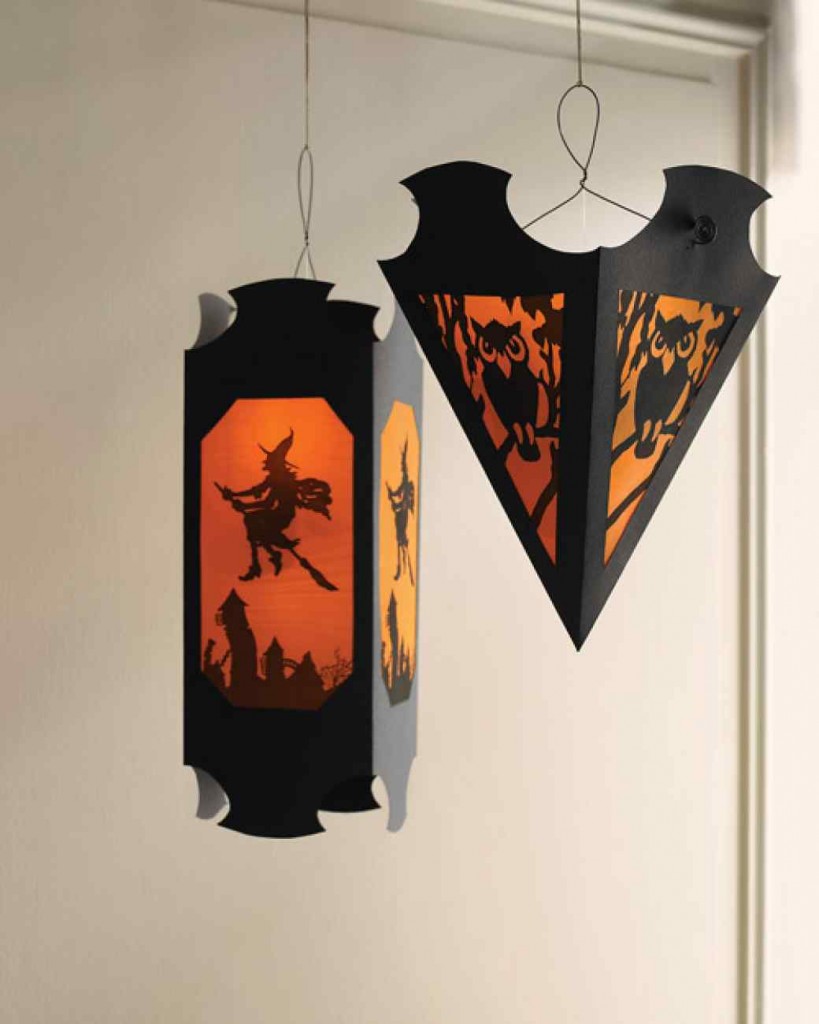 Image credit: Martha Stewart
Paper Bobble Spooky Black Cat
Only on Halloween would a black cat crossing your path bring good luck — at least when the cat is this cute. Kids will love making this fun feline, and all that's required is a free template, white card stock, black and pink paper, scissors, single hole punch, white colored pencil, sticky eyes, glue, and crayons (optional). Get the full instructions here.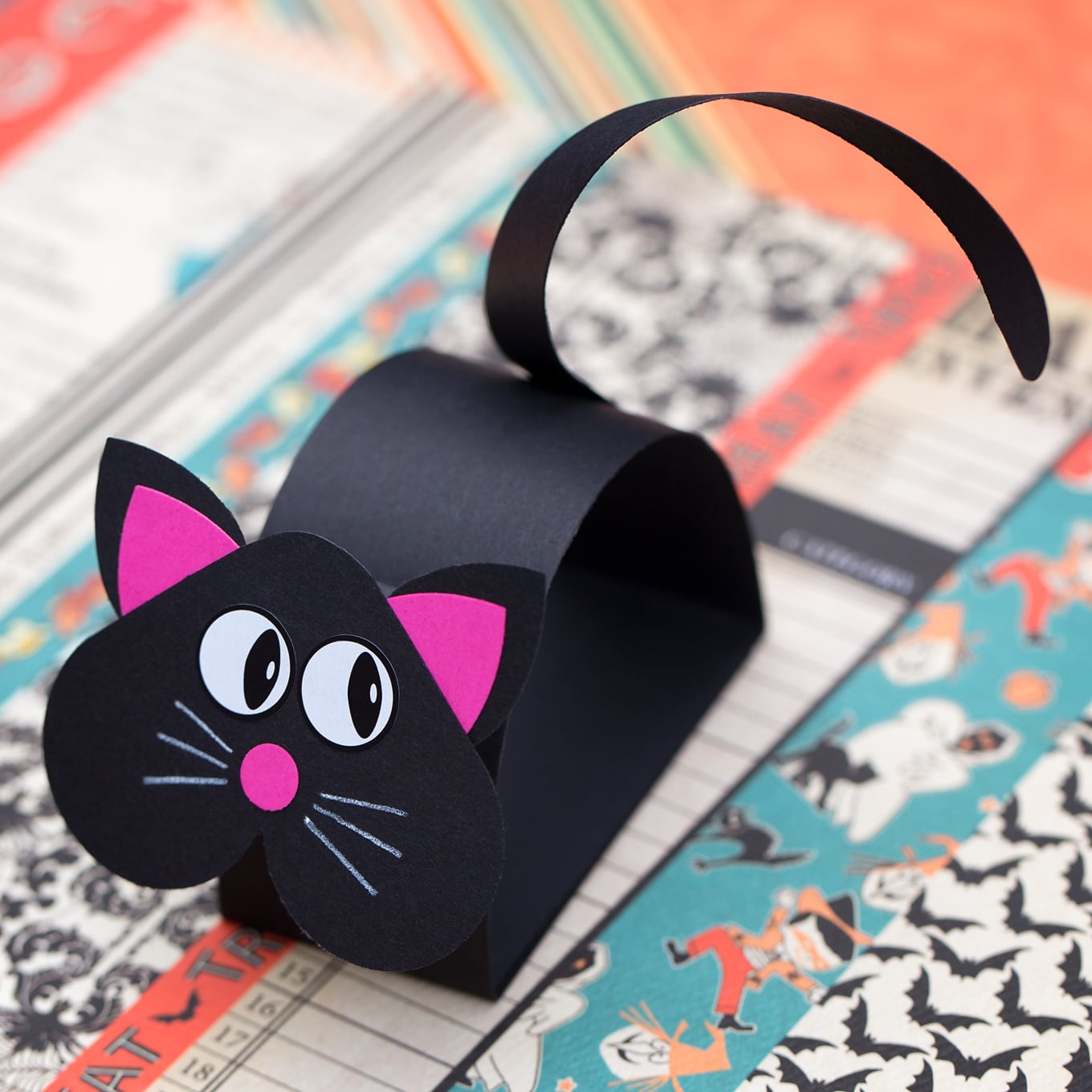 Image credit: Fireflies and Mud Pies


Halloween Accordion Decor
Calling all cardstock! It's time to get fun and festive! Adding dimension and life to plain cardstock is as easy as folding them into accordion-like patterns. Keep in mind that the thicker paper will need a larger "paper weight" to hold down or larger glued on features, but all you need is that paper, glue, tape, scissors, and a printable template. Get the full instructions here.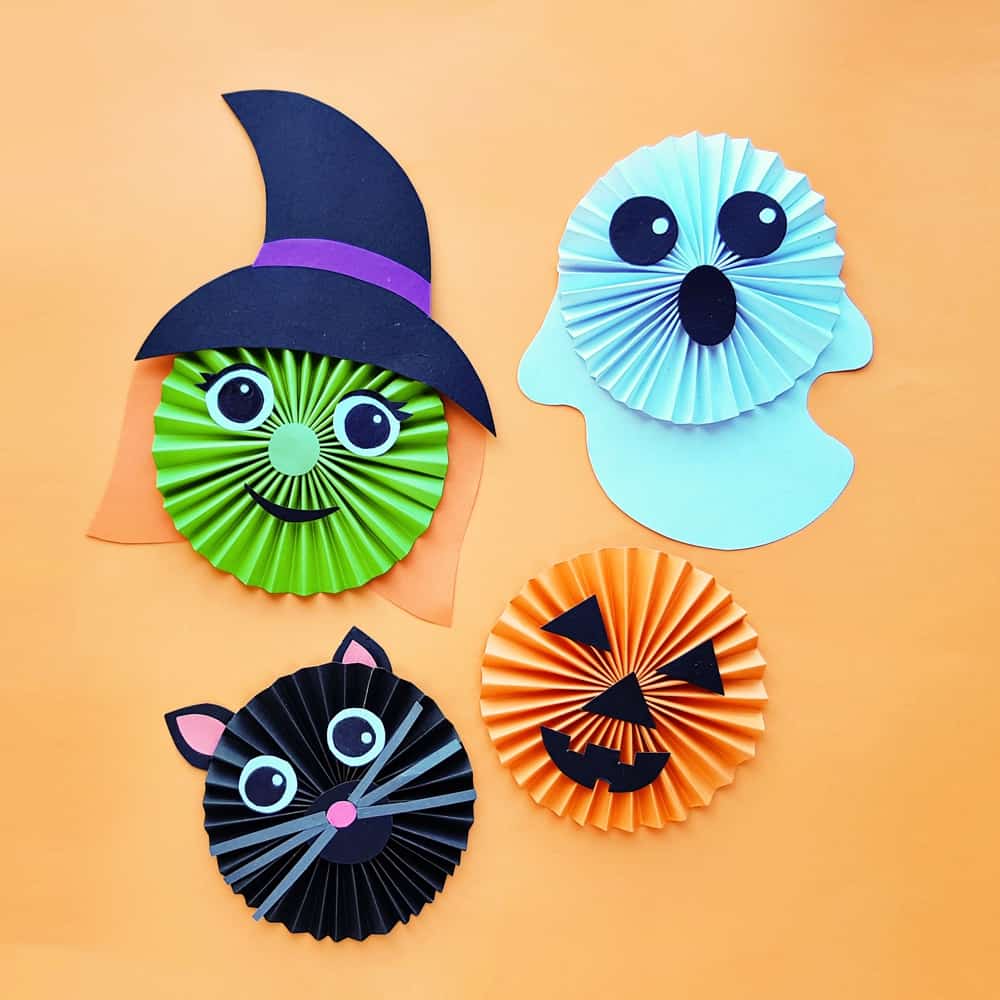 Image credit: Hello, Wonderful


Silhouette Halloween Lanterns
Another one for the adults, these paper lanterns are perfect for windows or tables, instead of the hanging lantern version from Martha Stewart — and they couldn't be simpler. It only requires black and orange cardstock, vellum paper, scissors, these templates, a hot glue gun, and flameless (very important — flameless) tea lights. Get the full instructions and templates here.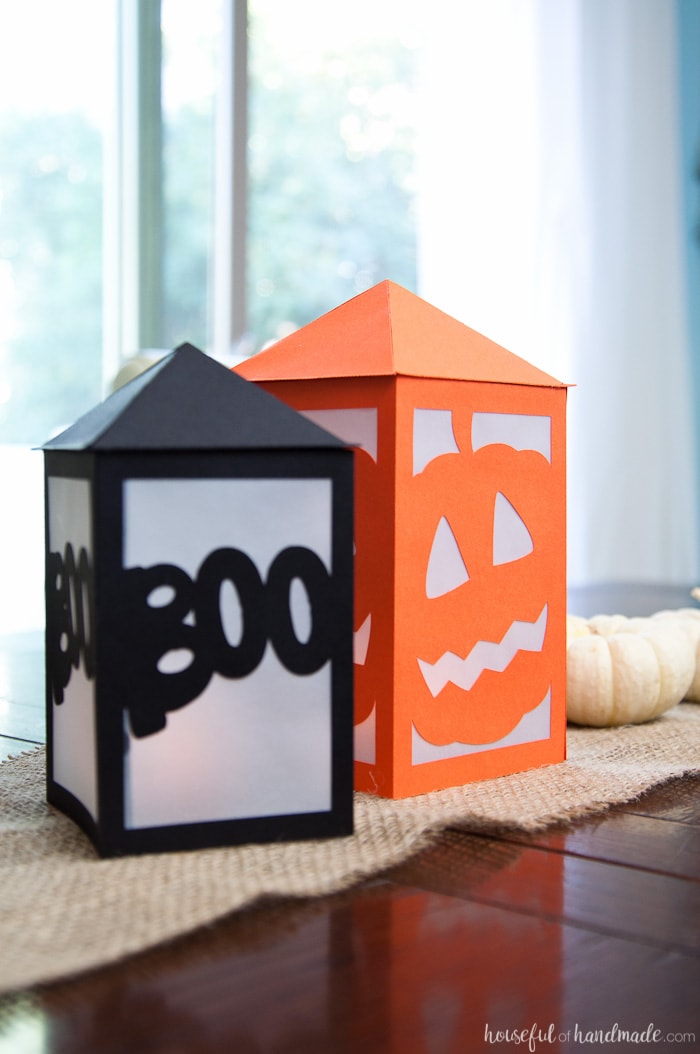 Image credit: Houseful of Handmade


3-D Paper Spider
Spiders are no longer creepy — they're cute, when they're made out of paper! Get out your supplies: Black and white paper, pen, string for hanging, scissors, glue, and a small cup for tracing. This cute and fun spider is made using circles and paper with no template needed. Watch the full tutorial here.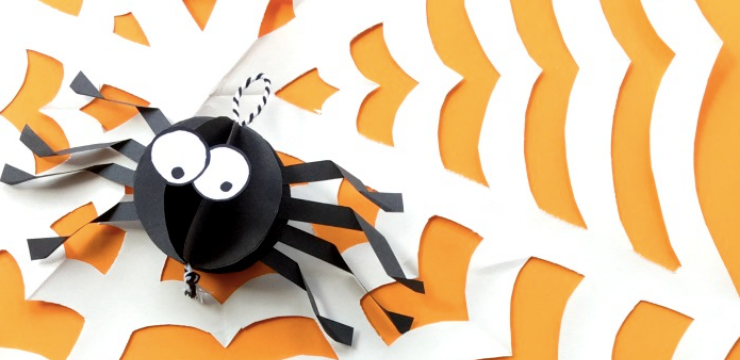 Image credit: Red Ted Art