Sylvamo recently teamed up with illustrator Kyle Beckett to create the original children's book Apollo the Spacedog. This adventure story introduces young readers to Apollo, a shelter dog who longs to find a home, and Andi, a 7-year-old girl who's into astronomy — two daring characters who team up to outrun a space monster. Apollo the Spacedog gives readers a glimpse of Andi's vivid imagination, with action scenes brought to life through the magic of augmented reality.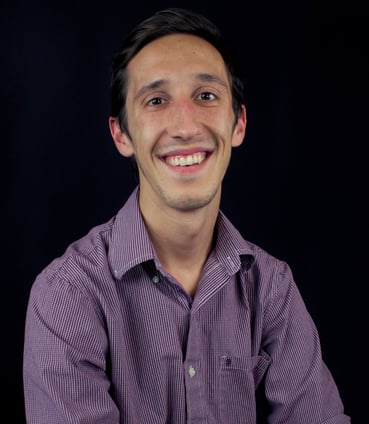 Kyle brought his unique style and perspective to the characters of Andi and Apollo, taking the story from concept and copy to a fully realized work of art. We recently sat down with him to learn about his process and the best parts of working on Apollo the Spacedog.
What's your origin story — how did you get started in illustration?
In the third grade, my twin brother and I both had Pokémon cards. We got into a fight over whose cards were whose, and that led to my mother throwing them all away! It was definitely a blessing in disguise, as I decided to start drawing my own characters and create my own card game. After a few months, there were about eight people playing my card game instead of Pokémon. I realized that I could make people happy and entertain them through my cartoons and stories. It was a very formative experience.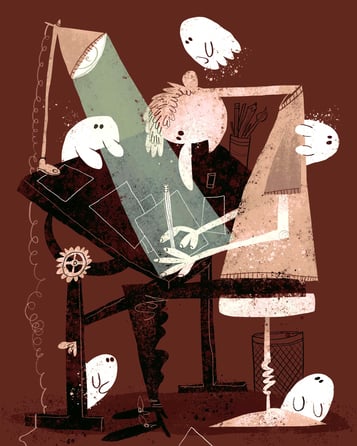 Tell us about your relationship to paper. What role does it play in your practice?
I work completely digitally now, but that doesn't mean paper doesn't play a huge role in my work. For one, every piece I make for a book will be printed. The end goal for me will always be a physical copy of a story, something you can hold. And secondly, I am a classically trained illustrator. Throughout my college years, I used paper every single day. Without paper, my work would never exist!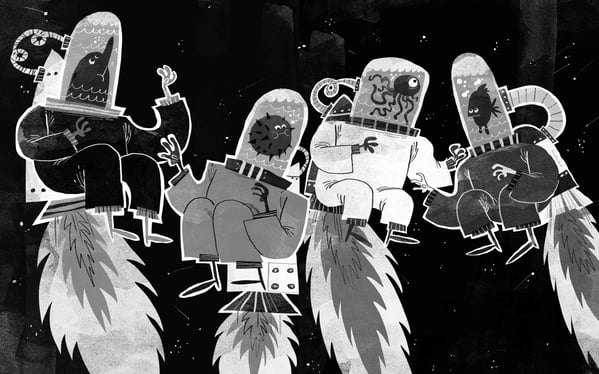 What are the tools that are crucial to your personal craft?
My most important tool is Photoshop. In high school, I taught myself the basics by playing around with different tools and keys. By the time I graduated from college, I had learned so much about the program, but I still continue to find new ways to work with it. I also work with a Microsoft Surface Pro 4. It's my computer of choice.
Anything else you need in order to do your best work?
Inspiration! I spend between 30 minutes to an hour every day simply looking at some of my biggest inspirations or searching for new ones. It's important to find work that you enjoy, and then ask yourself why you enjoy it. This has helped my style evolve and it shapes how I think about my work.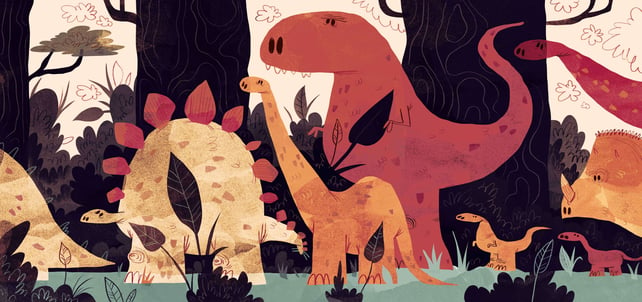 Who do you look to most for inspiration?
I have a running list of my favorite authors and illustrators at my desk. Here are some of them: Jon Klassen, Abner Graboff, Peter Brown, Mac Barnett, Kim Smith, Benji Davies, Melissa Crowton, Regan Dunnick, Anette Marnat and many, many more.
Tell us about a recent project you're particularly proud of (aside from Apollo the Spacedog, of course!).
That's a tough one because, as of right now, I can't talk about a lot of the books I'm working on. I did recently finish up a book called Pirate Penguin Sails the Seven Seas for a Belgian publisher. That was a special project, as I got to really play around with my style.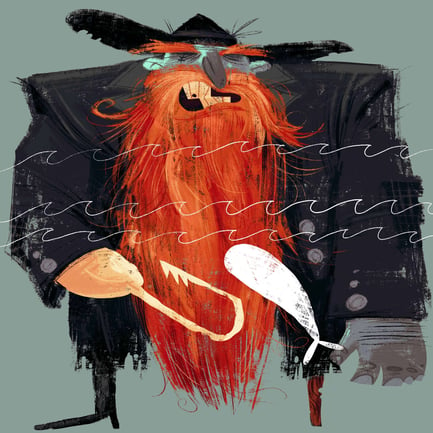 What is your favorite scene in Apollo the Spacedog?
My favorite scene is the big alien chase! It was my favorite to draw, and I think it is the most effective little bit of visual storytelling.
Tell us about how the illustration of Apollo the Spacedog came to life for you.
I started gathering reference and inspiration before I did anything else. While I was searching, it came to me that the story really felt like a late 90s cartoon, so I leaned heavily on that format. Once I caught on to that theme, my imagination really did take over and the book started coming together.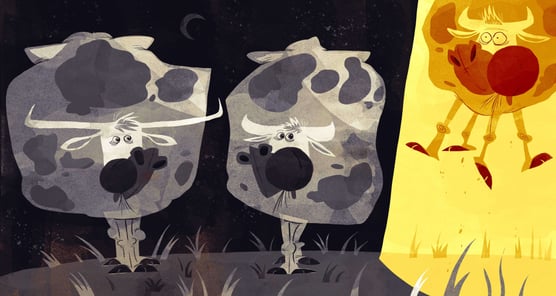 Throughout the book, keep an eye on Andi's pencil. It follows her everywhere, even to space! The pencil was a way to visually point out that this incredible story is all coming to life in Andi's imagination, and that she was creating the story along with us.
What advice would you give to emerging illustrators?
My advice would be the same advice that I received my first year at Ringling College: be a brain, not a wrist. It's important for illustrators to not only be able to draw well technically but also to be as actively creative as possible. When I'm working, I don't think about how I'm technically going to achieve something, but rather how I am going to make this piece look new and stand out above everything else.
Thanks to Kyle Beckett for chatting with us and for bringing these special characters to life. See more of his work on Instagram and request your own copy of Apollo the Spacedog while it's still available!