Julia Talcott is a printmaker, illustrator and owner of Studio 80, a printmaking studio near Boston, Massachusetts. Her fine art involves creating images of natural and man-made patterns as linoleum and woodblock prints and then collaging those images together into new forms.
The creation of the new Accent A was the perfect opportunity for Sylvamo to work with Julia on a creative project. We invited her to take over our booth at HOW Design Live 2018 and demonstrate the artistry of woodblock printmaking. Before the event, Julia designed and hand-carved woodblock representations of the Accent A. Then, in the booth, she walked attendees through the steps of her printmaking process, explaining the intricacies of the craft. After witnessing the letter come to life, visitors were able to take home their own unique Julia Talcott prints of the Accent A.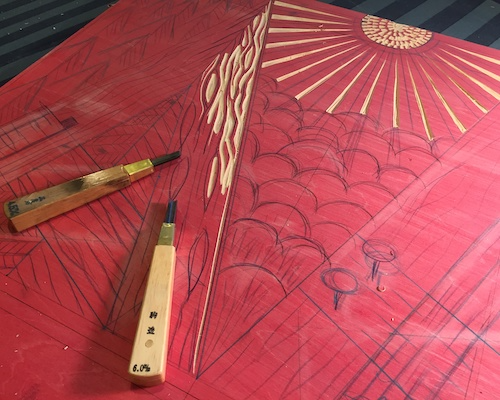 At the end of the conference, we sat down with Julia to get her thoughts on the experience.
What was it like to be given this very particular creative prompt of working with the Accent A?
Well, it was really serendipitous, because I'm really interested in typography, and at the time this possibility arose, I had been working with specific letters and sort of taking them out of context and fooling around with them in different ways. It was kind of a funny coincidence that Sylvamo called me with this project for, specifically, an A.
As someone who's into typography, what were your initial impressions of the A?
The Accent A is a really cool A. I thought from the first time I saw it that it would be a really fun letter to work with. It's designed well, it has nice lines, and there are a lot of possibilities for the positive and negative space in it. I just thought it was a really nicely designed piece of typography, so it wasn't hard to come up with some fun things to do with the A.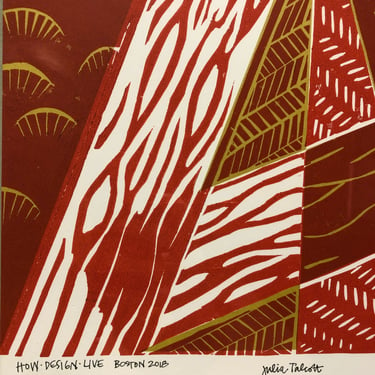 How did you decide which paper to go with for the prints?
I love paper, and I love having lots of paper to experiment with! The Accent team gave me a bunch of samples so I could try different types. The Accent Opaque paper was a good weight, and it had a nice finish. I liked all the different pound possibilities. 120 ended up being a little heavy for the project, and 80 would have been okay, but 100 was just perfect. Then I looked at the warm white versus the enhanced bright white to figure out what looked best. In the end, I liked both, so I made a version using each.
What was it like to demonstrate your printmaking live for huge crowds of designers at HOW?
It's been wonderful! People have been really receptive to this process. I think of it as an age-old process and the most basic way of printing, which I think is refreshing in a world filled with computers and inkjet printers and things you don't always understand. This is a very understandable craft and that's one of the reasons I like it.
I started in the graphic industry when we were still pasting up with wax and typeset, so I know what it feels like to actually use your hands to do things. The computer has changed so much, and I think people maybe long for a little bit of the hand-done quality of old technologies. People have also been really receptive to my images, so it's been a lot of fun. It's good to be out in the world showing my work.
Can you give us a bit of insight into your creative process? What are the things you need in order to do your best work as an artist?
My creative process involves lots of sketching, looking and flipping back and forth through my sketchbooks. First I sit down and just give myself some time, just to leaf through books. In this case, I looked at a lot of typefaces. I have to have a nap, have to have a cup of coffee, have to feel good. And I have to be alone in my studio — that's really important. And then I just start drawing and doodling.
Julia Talcott has been an artist as long as she can remember and has worked as an illustrator since 1985. Since that time, she has also added printmaker and teacher to her resume. Julia currently teaches relief printmaking techniques at the Mosesian Center for the Arts in Watertown, MA, as well as the Maud Morgan Arts Center in Cambridge, MA. Her illustration clients include magazines, books, advertising and design agencies. Learn more at https://juliatalcott.com.