Accent On: Art Director, Designer and Letterer Adé Hogue
We first encountered Adé Hogue when he spoke at Adobe MAX, and we were immediately enchanted with his lettering and the way he brings that lettering into physical spaces using all sorts of creative materials. Adé was named one of PRINT Magazine's New Visual Artists in 2017 and since then has been collecting accolades — and producing inspiring work. He chatted with us about his process, where he finds inspiration and his favorite Chicago food spot.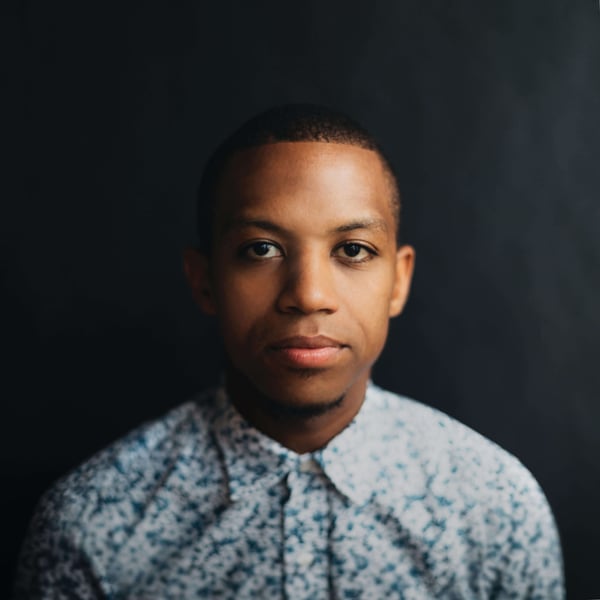 What's your origin story — how did you get started with your unique blend of physical and digital design?
Well, the blending came a little later. I went to school at UNC Charlotte, and I was originally studying engineering, but after two years, I realized that it wasn't what I wanted to do. I stumbled into an art class, and then another, and I fell in love with it. I ended up in a design program because, like every art student, I was trying to figure out what type of art you can do and still make money!
The whole mixing and blending of physical and digital happened much later, after I'd had a couple of different jobs and after I got comfortable using my own camera to shoot and produce work. Then I was able to start experimenting with the shots I got to make digital artwork.
Tell us about your relationship to paper. What role does it play in your practice?
Every single thing I do starts on paper. In my sketchbook, in my notebook, I'm constantly jotting things down, and those sketches get transformed into a digital sketch. From there, how much I go back and forth between paper and the computer depends on what the final product is. If it's a digital illustration of a lettering piece, I often take that digital sketch and actually turn it back into a paper sketch before then finally going back to the computer. If I'm creating something large and tangible, it stays in the digital sketch until I recreate it in the tactile media. At that point, it isn't a direct translation from anything — I usually eyeball it. But a lot of my large tactile pieces are actually shot on paper. So it starts as an idea on paper in my notebook and ends up on a large 8x8 piece. It started off as the easy thing to do because you can get paper in big rolls, but it's become a crucial part of my process. There is this back and forth between the computer and paper, and I use a tablet as well, but there's still just something about using paper and pencils.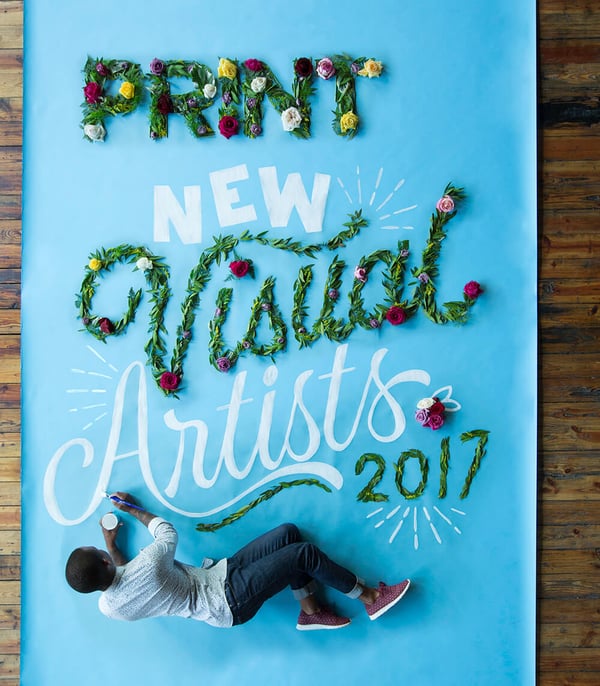 What are the other tools that are crucial to your personal craft?
Pens, pencils and erasers. I have a huge collection of pencils in this massive drawer. Mechanical, wooden — I don't discriminate, I just grab the closest pencil. I have a couple of special brush pens and calligraphy pens that I use to get the gesture of something when I'm sketching. My computer, tablet and notebook. And a huge part of my toolset is my camera, and the lighting and the setup, since my work often ends up as a final image.
What else do you need, outside of your tangible tools, in order to do your best work?
A clear mind is what I need the most in order to create something. Also, it sounds like an oxymoron, but I need enough time and also not enough time. I need enough time to physically do it, but not enough time to overthink it. Not enough time to procrastinate. If you give me two months, I might wait for a month and a half to start, and that means it was a two-week project.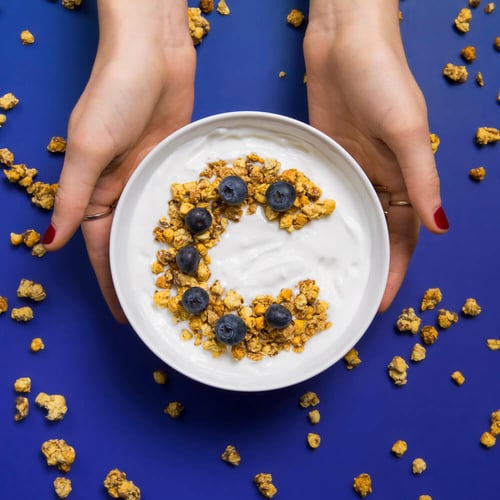 So how do you get your mind clear and ready to be creative?
Fitness is really important to me. I go to the gym or go for a run to clear my head and start the day. And a big part of it is coming to my office. I have an office outside of my home, and I find it's a reprieve from the day-to-day at home. The space is different. It feels different, I have done a lot to make it feel comfortable, but not too comfortable. I have a couch and it's sort of uncomfortable, and I'm good with that. It's not a napping couch, it's a working couch.
I read a book recently about how to sharpen your creative focus and how to find the conditions that make you feel the most creative and productive — the space, the time of day, the music. I learned that what it takes for me is a very small window in the morning, in my office, listening to Beyoncé's Lemonade. I listen to it almost every day at 10:30 am, and no matter what else happens, I know I'm going to get a lot done during the 45 minutes and 42 seconds of that album.
Tell us a

bout a recent

project you're particularly proud of.
The thing about being an artist or designer is that, when you're done with it, are you ever really proud of it? It takes a while for me to be able to sit back and really appreciate my own work. That said, I recently worked on a project that was a new and fun experience for me.
My studio space is connected to an agency, and every year we do a digital holiday card for them. They are great clients, and they pretty much let me do whatever I want, they're all for it. Two years ago, we did a piece made out of cans because they were donating food and encouraging their clients to join them in doing so. The next year, we did a piece made out of pieces of Christmas tree.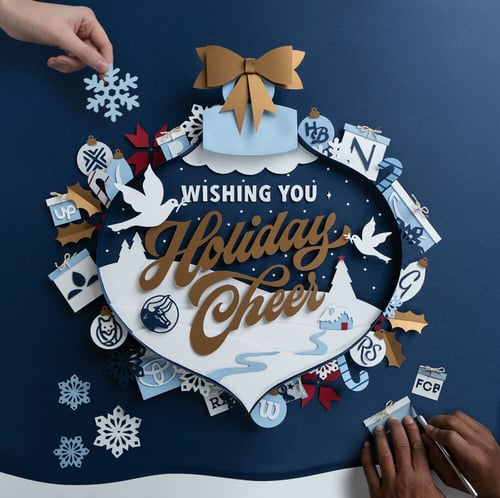 This year, we decided to make a papercut piece that was much smaller, so a 2'X2' versus an 8'X8'. I got to collaborate with my friend and artist Remy Glock, and it was cool to take my style and work with her to help me visualize it and make it real. We made a papercut ornament and handcut the lettering pieces out of it, and then surrounded it with handcut gifts and candy canes and leaves. Each gift contained a client the agency worked with this year. It was a lot of fun, because I had never worked with paper in exactly this way, and it's a strength of Remy's, so I got to learn from the collaboration.
Speaking of learning new things, you seem to be constantly working with new media… what's the wildest medium you've ever worked with?
Anything that's liquid. I've recently done two liquid lettering projects. One was a "mango juice" that was actually corn syrup dyed orange, and then I did one for a faucet company, and it was supposed to look like water but it was actually clear glue. Both of these were difficult to maneuver, and it took a lot of exploration just to figure out how to get them not to move around and to show up on camera. They were both challenging, but really enjoyable.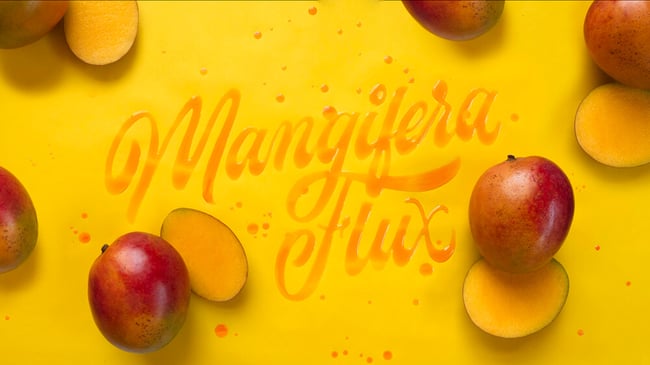 Who or what do you look to for inspiration?
When I list names of people I look up to, I inevitably forget someone important, so I'll just say that overall I look up to my peers. I'm inspired by their success. I love when my friends are doing well and making cool things because it makes me want to do something even better. My friends and I all talk about it, and we agree there's a back and forth that keeps us all going.
I also look for inspiration in the things that are around me. I live in Chicago and I love just walking around and seeing what new things are popping up and what old things are fading away, especially when it comes to lettering.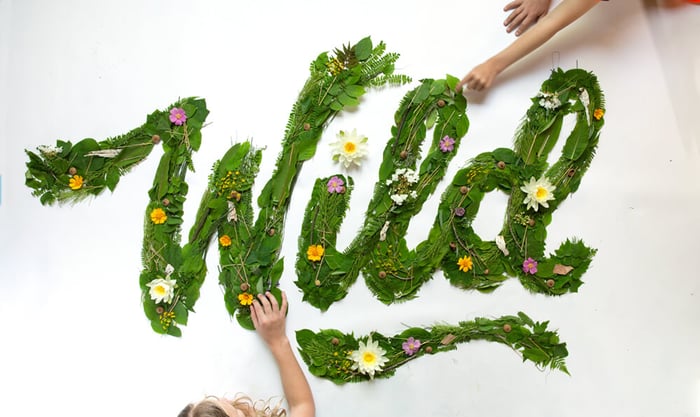 Any advice you'd like to give to other designers who are still trying to find their unique voice?
So first I should say that I don't necessarily know that I've completely found my unique voice — I'm always searching for it. I don't know if I'll ever feel like I really found it, although maybe one day I'll look back and feel that way. But my advice is to just keep doing it, keep making it, keep sharing it. I've learned so much about myself and my process by putting it out there because you get people who comment and ask about it, and it initiates a deeper conversation every time.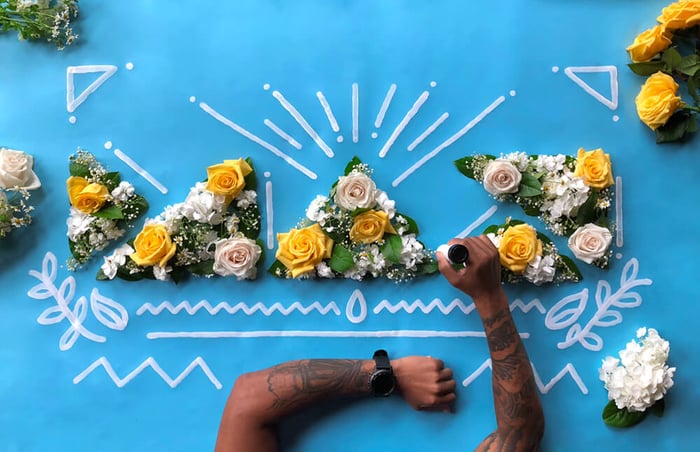 Okay, last question. What's your favorite Chicago food spot?
Ooh, that is hard. I'm not sure if I can truly name a favorite, but one place I really love is Green Street Smoked Meats. It's a BBQ joint in the West Loop, and that might not be super-original, but I'm a southerner, I'm from North Carolina, and I love pulled pork. They do a really good pulled pork sandwich with a bourbon sweet tea cocktail. Anytime I get homesick, I go there.
Thanks to Adé Hogue for taking the time to chat with us! See more of Adé's work at
adehogue.com
.